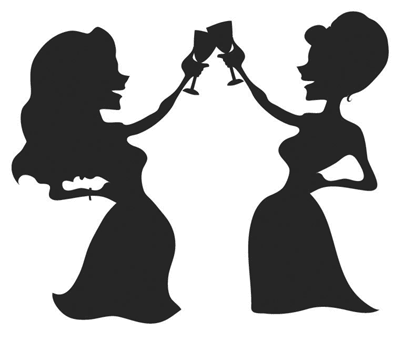 Sticking to a budget for your wedding reception can be tough. Pondering the cost of an open bar can give both bride and groom a headache long before their wedding night.
Instead of an "anything goes" approach to wedding drinks, offer your guests beer and wine, Champagne for wedding toasts, and then serve a signature wedding cocktail. Choose a wedding drink with a name that's a big risque and fun, and guests will long remember your special drink as part of the celebration.
Here are a few wedding drink recipes to start your thinking.
Love is in the Air
2 oz. sloe gin
1teaspoon lemon juice
1/2 teaspoon raspberry syrup
1 egg white
Combine ingredients in a shaker with ice, shake well and then strain into a chilled cocktail glass. For a special touch, drop in a raspberry as a drink garnish.
Hot Romance
1 1/2 oz rum
2 oz cranberry juice
2 oz orange juice
Mix ingredients over ice in a cocktail glass. Stir and garnish with an orange slice.
Love Birds Cocktail
2 oz  Sweet and Sour Mix
1 1/2 oz  Vodka
1/2 oz  Grenadine
1 dash  Dark Rum
Mix vodka, sour mix, dark rum and grenadine in an old-fashioned glass filled with crushed or shaven ice. Serve garnished with a maraschino cherry.
Sealed with a Kiss
1.5 oz vodka
2 oz chocolate liqueur such as Crème de Cacao
Hershey's Kiss
Combine all ingredients except the Hershey's Kiss in a shaker with ice. Shake well. Place the Kiss at the bottom of a chilled cocktail glass and pour in the drink.
Royal Wedding
3 oz Orange Juice
1 ½ oz Brandy
¾ oz Peach Brandy
Soda Water
¾ Kirsch
Mix ingredients well in a cocktail shaker and pour into an unusually shaped glass. Add crushed ice.
If your guest list is large, cocktails might not be the best choice, as they can be slow to make. Instead try a wedding punch. With punch, the bride and groom can choose their favorite flavors or something to complement the wedding cake. Plus, punch has the advantage of being adaptable to alcoholic and non-alcoholic versions (be sure to keep watch on the youngsters trying to sneak a taste of the "spiked" punch!). Keep plenty of chilled ingredients on hand; wedding guests can get quite thirsty!
Elegant Wedding Punch
2 bottles dry champagne
2 cups pineapple juice
1 liter of ginger ale
1 cup Triple Sec
1 cup Brandy
1/2 cup Chambord raspberry
Chill ginger ale and dry champagne overnight before the wedding. Combine all ingredients in a punch bowl with ice cubes or an ice mold. Makes 16 cups
Traditional Wedding Punch
2 cups unsweetened cranberry juice
2 cups unsweetened pineapple juice
8 oz ginger ale
1 cups vodka
1 cups sugar
Mix ingredients and serve in a large punch bowl with plenty of ice. Adjust vodka and sugar to taste. When using sweetened juices, the sugar may be unnecessary. Makes 10 cups