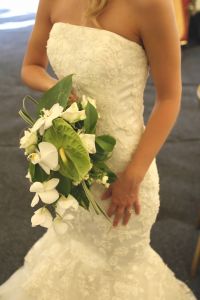 To get the perfect wedding dress, it is important to know the most flattering shape for your figure. Some women make the mistake of choosing a beautiful gown without considering whether it would match their body shape or not. The key to looking great in a wedding dress is to find a design that accentuates your figure's assets. Below are some tips to help you find the right wedding dress:
Hourglass
If you have an hourglass figure, it would be easy for you to fit into any wedding dress design, as you have curves in all the right places. You could choose an A-line wedding dress and have a sweetheart neckline to accentuate your chest. You could also wear a mermaid dress to emphasize your waist and hips.
Full Figure
If you have a full figure, chances are you have a big chest and some love handles. A ball gown with a V neckline is a great choice for you, as it will make you look thinner and draw attention to your chest and face.

Curvy Petite

If you have full bust and hips, and are shorter than 5'5″, you have the curvy petite figure. To help make you look taller, you might want to choose dresses with a V neckline or a boat neck. You should also avoid wearing a ball gown, as it will only make you look small and short. Opt for a figure-hugging dress instead.
Pear Shape
If you are small on top and heavy on the bottom, you have a pear figure. Choose a dress that would not draw attention to your bottom, like a strapless ball gown. Never choose a mermaid or trumpet style dress, as it will draw people's attention to your hips. Find a dress that would accentuate your chest and shoulders.