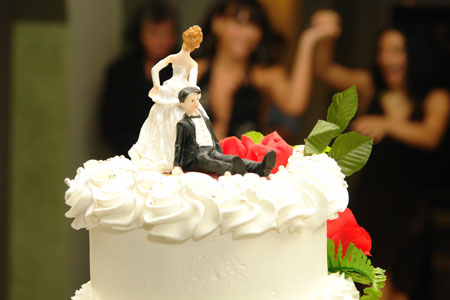 Apart from your wedding dress, the wedding cake will be another important element that you cannot do without at your wedding. It is therefore important to select the right cake that you and your guests will remember at all your anniversaries to come. Here is some advice on how to go about selecting the perfect wedding cake for the eager bride.
Before you head out to the bakery, it is important to have an idea of what exactly it is that you want. For ideas on wedding cakes, you may flip through bridal magazines, go online to websites offering information on wedding cakes as well as visit your local bridal salons and shows for one-on-one advice.
Once you have the entire mental sketch of your wedding cake in your brain, you may then go out to window shop at your local bake shops.   If want your wedding cake to be delivered on time, you might wish to opt for a local bakery that is located near your home or wedding venue. Although, you are likely to find better discounts at the bigger department and grocery stores, you may have to settle for limited designs and styles than the variety that a private baker would provide you.
Have the size of your wedding cake clear in your mind. To know the size of the cake, factor in the number of wedding guests you have on your invitation list. You should find that the bakery will request for your wedding invitation list so that they may base their prices on the number of slices your wedding cake will be cut into and served.
Once you have the size of your cake down, determine what sort of frosting you wish to have on your cake. This is an important factor in limiting or expanding the design and style of the wedding cake. You may go for the butter cream frosting which is soft and rich to the palette. Fondant is a little pricier and is normally used for sculpting the fancier cakes designs. Decide whether you will also want optional fillings for your cake such as pudding, fruit or another type of frosting.
Next, decide on the style of your wedding cake. You may get ideas of the style from sample photos if you ask your baker for their recent work. This will help you chose a style that will best fit into the entire theme of your wedding.
For your wedding cake accents, there is a variety to choose from. You may want fancy decorations or may opt for the more simple classy accents. You may include accents such as ribbon-weaved icing, edible beading, delicate trims of frosting, fresh flowers, gum paste or delicate trims of frosting.
For your wedding cake topper, you may opt for the more traditional bride and groom figurines, or decide to be creative about your topper, by going for say hearts, bells or dancing figurines. Most importantly, make sure that your wedding cake is exactly how you dream it to be.