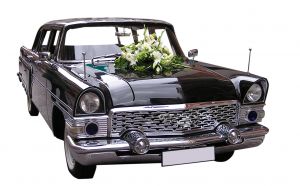 There are different ways and transports you can use on your wedding day. Whatever ride you prefer, make sure that you pick a car that has enough room for you and your parents as you go to the venue. Also, you need to choose a vehicle that won't wrinkle or stain your dress. You want to step out of it with your hair, make-up and dress still looking beautiful.
Here are some excellent wedding transport ideas:
Vintage Wedding Car
The classic wedding car is the most popular type of wedding transport. Examples of vintage car are Rolls Royce, Mercedes Benz or Bentley.
Limousine
If you want a bigger space, you can choose to ride a modern limousine. It has enough space for you,   your family and your dress. It may not have as much character as the classic wedding, but it will be able to save you more money for the rent.
Horse-drawn Carriage
This is what you may want to choose if you've always dreamed of having a fairytale wedding. It's very romantic and unique. However this is not suitable for long journeys. You should also consider the time of year as this carriage is only suitable for summer.
VW beetle
If you're a fan of VW's, show your guests how much you love it by stepping out in a VW beetle. You will be surprised by how many suppliers offering old and new Beetles to their wedding clients.
London Taxi Cab
This is another unconventional choice for brides, but believe it or not, it's getting popular. It's fun, one-of-a- kind and adorable.
Family Car
If you're on a tight budget, you can always choose a family car. Find a member of a family or even a friend who has a nice car that can transport you to your wedding ceremony venue. Just make sure to have the car cleaned and polished   and decorated with a ribbon and some flowers.