You can never go wrong with a Christmas wedding. You have the perfect story, backdrop and touch of magic for one of the most special days of your lives. And best of all, you don't even have to spend that much to make your wedding venue look like a romantic wonderland.
Depending on where you have to decided to have your wedding, there may already be decorations set up. If you plan to have your reception in a hotel, they may have a huge Christmas tree that you can use as your decors focal point.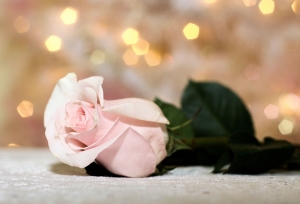 If your wedding is in the garden, they may have lights or wreaths all over the place. You can use your funds on adding accents to match your motif. This is one time when going overboard is very unlikely just because it's Christmas.
A great idea for a unique centre piece would be to use snow globes. You can just base the globe theme on your wedding setting. Are you having a small village wedding? Are you a couple of travellers? Do you have a special city where you met? These could be great inspirations on choosing which snow globes to place on your tables. These decors can also work two ways, also as wedding favours.
If you have red as   your wedding motif, you can make use of the poinsettias. You can use these as flowers for your wedding, using the rich red colour to graze your bouquet, or even request your cake maker to design sugar poinsettia flowers on your cake. Against your white dress, the red colour will stand out, and transform you into a romantic Christmas bride.
In a Christmas wedding, one should always take advantage of using lights for the decor. Imagine strings of lights overhead, or wrapped around poles. Turn the main lights dim and allow these small glows to provide light to and drama to your venue.
If you're worried about using real candles for the tables, you may opt to try flameless candles. They will serve the same dramatic purpose, without the danger of being knocked over. To keep the ambiance going, you can spread it all over the venue, including the halls or the men's and ladies rooms.
Feel like you're entering a movie scene wedding by choosing the right decorations for your Christmas wedding.