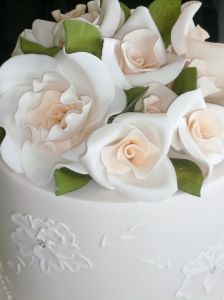 Some wedding decisions are dictated by convention, family tradition or even public law. When it comes to the wedding meal, however, the menu is all up to the happy couple!
A wedding meal can be anything from a light brunch to an elaborate, formal sit-down dinner - and anything in between. The best idea for a wedding meal is to choose something that will carry forward the wedding theme and the personal style of the bride and groom.
A good wedding caterer will help the engaged couple make the right choices for a meal that's tasteful and within budget. Beware the caterer who attempts to push you to choose something you feel isn't right, or is too expensive. That's when it's time to get a new caterer!
Meanwhile, here are some examples of wedding meals that can start your thinking and planning.
The Formal Dinner
This wedding meal is the most traditional, but it's also the most expensive. The menu for such a meal usually consists of three courses, plus wine with dinner and Champagne and coffee with the wedding cake. There also needs to be two or even three options for the entree, such as meat, fish and vegan. A sit-down dinner also needs serving staff, place settings, table decorations and so on, all of which add to the bottom line.
The advantage to a sit-down wedding meal, however, is that people will get to know one another around tables. Furthermore, if you've invited dozens or even hundreds of guests, a formal dinner will be much more orderly than a buffet - and without the long line!
The Fork Buffet
The fork buffet is an option to the formal sit-down dinner. Guests serve themselves from a variety of hot and cold foot, and then sit at a table to eat. The drawback to this option, as with the finger buffet, is that long lines can form while guests dither or their selections or attempt to negotiate such things as dressings and condiments. An alternative to the long lines would be a buffet that employs different food stations rather than a single buffet table, even one that allows guests to proceed down both sides of the table. Food stations also could give guests the chance to sample different kinds of cuisines.
The Finger Buffet
A finger buffet consists of foods that guests can eat without cutlery, such as canapes, sandwiches, pastries, crudites or breads and dips. This is one of the less expensive options, but a finger buffet also has disadvantages. For instance, most people won't want to stand for a long time, and a gracious host and hostess won't force them to do so, especially elderly or disabled guests. Therefore a finger buffet should also provide tables with seating so guests can sit, talk and rest.
Aside from these traditional options, the reality is that it's your wedding, so you can serve whatever you'd like. Champagne brunch, afternoon tea, al fresco picnic, 12-course Asian feast - the choice is yours. What matters most is making sure that you are considerate of your guests' eating preferences (especially allergies); that the food is exquisitely prepared; and that everyone has a marvellous time celebrating your marriage.