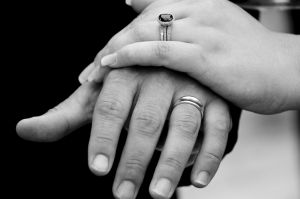 As stated in Part 6 of the Civil Registration Act 2007, to legalize your marriage in Ireland, you are required to get a Marriage Registration Form (MRF) from a Registrar. Whoever is solemnising your marriage must also be on the Register of Solemnisers. The Registrar will only issue the MRF once you have given them your 3-month notification to the Registrar.
You may hold a civil wedding ceremony in the office of the Registrar of Civil Marriages or in another venue that is approved by the Registrar.
Rules
Once you have decided on the district where you intend to marry, it is important that you approach the Registrar of Civil Marriages to inform them of the venue. They will also give you information on how to proceed with your plan.   You do not have to reside or live in the district where you intend to get married.
Remember that you are required to give three months notification to a Registrar before getting married.
Venue
A civil ceremony may be held in a Registry Office or in another venue that is approved by a Registrar. Find a Registrar who is available to solemnise the marriage.
If you are planning on getting married outside the Registry Office, make sure that a Registrar approves the venue. This may involve a Registrar inspecting your chosen venue.
You must be aware that there are certain venues that are not allowed, such as marquees and private homes. The Guidelines for Marriage Venues are available on the General Registrar's website.
Marriage Registration Form
After fulfilling the three months notification requirement, you will be issued a Marriage Registration Form by the Registrar. This form gives your permission to marry.   The MRF should be given to the Registrar who will be solemnising your marriage before the marriage ceremony.
After the wedding ceremony, you and your spouse, the two witnesses and the Registrar must sign the MRF. The Registrar will be one to finally register the marriage.
Marriage Ceremony
Your wedding ceremony must be attended by at least two people, who will serve as your witnesses. They must be at least 18 years old.   In the ceremony, you and your spouse will make two important declarations:
1. That you do not know of any impediment to the your marriage
2. That you accept each other as husband and wife