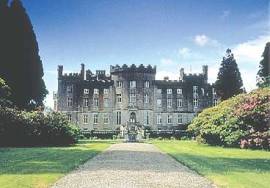 Most little girls dream of their wedding day to be just like the story of Cinderella going to the ball. the dream dress, the dream man, the horse and carriage and of course the essential castle venue. There are dozens of fabulous historic castles around Ireland which couples can hire exclusively for their special day and make the little girl inside you come alive again. The idea has been made all the more popular with celebrities such as the Beckhams and Paul McCartney choosing to use Irish castles for their dream wedding venue.
MarkreeCastle: This is Ireland's finest castle of its period based in Sligo and is still some what of a wedding venue hidden gem as it has only been open to wedding bookings for the past four years. The two acres of gardens leading down to a river provide a fabulous setting for photos. The whole castle is furnished with antique furnishings and family portraits, so the comfort feeling of a family home is maintained as much as possible.
A majestic candle lit reception with a blazing timber fire will greet your guests in the main reception hall. You can share the magnificent castle and grounds exclusively with your family and friends before feasting on excellent cuisine. The Castle chapel is also available for use subject to agreement with your clergyman.
It has 30 bedrooms each accommodates at least two people. A minimum of 20 rooms must be booked for your exclusive wedding. However there is a 10% discount for your guests and the bridal suite is complimentary.
There is a castle hire charge of â' ¬2,000 and the tasty menu choices start from â' ¬42.
The Owner Mr Charles Cooper, whose family has inhabited the castle for 350 years elaborates, "We can accommodate at least 150 in the dining room. Our head chef, Sara, has been with us for several years. We have a range of menus and offer a choice of main courses for all weddings for no extra charge. We emphasise that the menus are not 'cast in stone' and we will produce a menu to suit the couple's exact wishes."
Adare Manor Hotel & Golf Resort: An architectural masterpiece of towers, turrets and stonework ornamentation, the 5-Star Adare Manor Hotel & Golf Resort is positioned at the gateway to Ireland's scenic southwest with Shannon Airport only a 30-minute drive away. The former seat of the Earls of Dunraven, the beautiful 18th century manor stands along the meandering River Maigue amid 840 acres of formal gardens and lush parklands.
Adare Manor's Sophie Wijnstekers describes some of the outstanding features, "Our Dunraven State Rooms have fireplaces that are works of art in themselves, with handcarved wood and imported tiles and marble from all over the world. Four out of our five Dunraven Staterooms have majestic four poster beds, all have a spectacular view, large sitting areas with sofas, chairs and tables for your comfort and privacy."
The 132 foot long Minstrel's Gallery inspired by the Hall of Mirrors in Versailles can cater for weddings of up to 160 people.
The extensive grounds of this venue, which was voted the No.1 European Resort by Condà © Nast Traveller Magazine '2002 Readers Choice Awards', boast a fully Championship Robert Trent Jones golf course, an equestrian centre, a spa, and offers fishing and clay pigeon shooting to keep your guests amused.
There are 63 Manor House rooms and 23 self-catering townhouses to accommodate guests at Adare Manor. For wedding receptions, there is a room hire charge of â' ¬1,000 (this can be negotiable depending on number of reserved rooms, time of year etc.). The venue does not allow corkage and their minimum menu price is â' ¬65.00. Sophie concludes, "Other than that it depends on the requirements of the bride and groom! Nothing else is mandatory and everything is possible!"
Clontarf Castle Hotel: This is a luxurious haven just two miles from the heart of Dublin and five miles from Dublin Airport. Steeped in Irish history and dating back to 1172, the castle offers the guest all the charm and splendour of a unique and royal experience. Hanging tapestries adorn the walls, mysterious doorways and roaring fires create an impressive warm beginning.
The Castle provides an excellent variety of guest accommodation. Its 111 deluxe en-suite rooms are carefully designed and superbly fitted with generous space and comfort to ensure visitors can enjoy a relaxing evening's rest.
The original staircase of the castle and the master fireplace are perfect for photographs. The bridal suite has the all important romantic castle touch of a four poster bed, as do some of the other 110 bedrooms.
Olivia Willis of Clontarf Castle describes the culinary delights of the venue, "The culinary team at Templar's Bistro have created a superb menu, European Cuisine with a modern twist, combining dishes from land, sea and air. With its chandeliers and pewter goblets, Templar's Bistro is steeped in a medieval atmosphere and is the perfect setting for a delightful evening.
Add to this, our superb banqueting menu's and banqueting facilities for up to 400, full natural daylight and air conditioning in all banqueting suites and you've got the entire solution to the perfect wedding."
This Castle was built in 1172 by Hugh De Lacy, as an inner circle of defence sites protecting Dublin. After it had passed through the hands of many great names such as Cromwell and Blackwell.
The site of Clontarf Castle became a significant location in Irish history, more than a century before the castle was built. Brian Boru, the High King of Ireland, and the famous battle of Clontarf, on Good Friday, 23rd April 1014, will always be associated with and central to the history of the Clontarf area.
A wedding for 150 guests will cost in the region of â' ¬10,000 – â' ¬12,000 to include menus, wines and a drinks reception. The Castle can seat up to 330 guests at round tables.
SlaneCastle: Set upon an impressive estate of 1,500 acres in the heart of the picturesque Boyne Valley, Slane Castle is the quintessential wedding venue for any girl that longs to be a true Cinderella for her special day. Indeed, this fairytale castle has played host to an impressive range of guests throughout the years. From King George IV to Mick Jagger, Queen and U2, Slane Castle has remained a choice entertainment venue for centuries untold.
Slane Castle celebrated its bicentennial year in 1985. Throughout the years, a number of celebrities have chosen Slane Castle as their wedding venue. Perhaps the most infamous romantic tale associated with Slane Castle is that of King George IV and his love for his mistress, Countess Conyngham. King George IV was a regular visitor to the castle around the year 1821, indeed the magnificent Ballroom was originally designed for him and the beautiful 'King's Room' was his habitual bedroom. The King was in fact so besotted with his mistress he ordered a straight road to be built from Dublin to Slane so that as soon as he arrived on Irish shores he could be with her as quickly as possible. That road is today more commonly known as the N2.
The present head of the Conyngham family is the seventh Marquess Conyngham, and the castle is currently occupied by his eldest son, Henry, the present Earl of Mount Charles.
Slane Castle is rented on an exclusive basis which ensures that this enchanting venue remains private for you and your guests for the duration of your wedding. From Monday – Friday, the rate is â' ¬5,500 and on Saturday, the rate is â' ¬7,000. These rates include the bridal suite, flower arrangements in the Main Hall and bathrooms and a full hospitality team on the day to ensure that everything runs as smoothly as possible. The Corporate Solutions Group at Slane Castle also provides a full wedding coordination service inclusive in the rental rates.
Probably the most unique feature of the castle is the Ballroom itself – this magnificent room was originally designed for King George IV back in 1821 and exudes a regal charm. The most unusual features of the room would be the intricately designed original ceiling and the wooden chandelier which dates back to the 16th century.
The grandeur of Burton Hall can seat an impressive 240 guests while the opulently designed Ballroom can seat up to 110 guests. The castle is equipped with 10 beautifully and individually designed double bedrooms which are a welcome place to repose in after the festivities of the day.
SlaneCastlehas its own exclusive caterers. Kim Murphy, the Event Manager and in-house Wedding Co-Ordinator for Slane Castle explains, "We are passionate about food and throughout the years have developed a number of unique ways to assess your tastes and preferences. This ensures that you will be presented with food that you and your guests really enjoy as we tailor our food to meet your exact requirements and deliver it immaculately presented and with a smile!"
Written by International Award Winning Writer and Professional Wedding Planner Rosemarie Meleady.