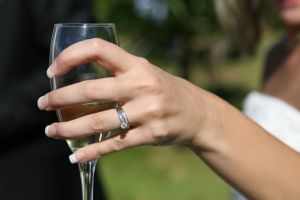 For most couples the purchase of wedding rings is a very serious, momentous decision. These most special rings are representative of the commitment and love shared between the couple. Most couples want rings that are a reflection of their taste so that it is something they will be happy to wear in years to come.
Style Counts when Choosing Wedding Rings
Before shopping, the couple needs to decide what styles would be compatible with their lifestyle. A very active person would not want to select a ring with the gem set high and vulnerable to being chipped or knocked out. The most important point is for the couple to select rings they will be happy and proud to wear.
Budget Matters when Choosing Wedding Rings
Set a budget before shopping. The price of a wedding ring correlates to the metal type. A plain gold wedding band may be purchased in the range of £100-£200 whereas the same ring in platinum would be priced at £400-£1,000. If you are searching for a diamond wedding ring, the average price you would expect to pay is £1,000 but varies according to the metal type and the size and quality of the diamond(s). An inexpensive alternative to diamond is Cubic Zirconium. At much less expense and a similar appearance, most people would never be able to tell the difference. Stick to your budget.
Try Before you Buy Wedding Rings
A vital step in the selection process is to look around before you purchase. Don't purchase the first rings you try on; comparison shop for the styles you like and that fit your budget. Shop for the best price you can find for the rings you want. Start shopping early so that you will have plenty of time for sizing or personalizing. Shop until you find the rings you are looking for and that you will be proud to wear for years to come.
When you try on rings remember to factor in things such as heat, weight loss or gain that will effect how the rings fit. Only try rings when your body temperature is normal. You want to wear your rings in comfort so do not purchase rings that are overly tight or too loose. The advantage to shopping in store is that you can see and try the rings before purchase.
Should you Buy your Wedding Rings Online?
Today, more than ever, there are many shopping options to consider when purchasing wedding rings. A trip to the local jewellery store is the traditional option. Going online is a great option to consider for browsing. There is a huge selection of online stores and custom designers. Either option offers ready made or custom designed rings. Both options offer a wide range in pricing from low to very expensive.
The advantage to shopping online is the huge selection available. However, the main issue that arises when shopping online is ordering the proper size of ring. Most of the sites have guides so you can ascertain the proper size to order. Shopping far in advance of the wedding date will allow for sizing and any corrections to be made.
Setting a budget and spending some time browsing offline and on, will help you select rings that you will wear happily for years to come.