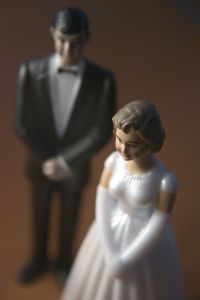 Most wedding receptions are decorated in similar ways. You have the traditional glass centrepieces and scattered candles, flickering here and there. White lights offer a touch of ambiance and an elaborate cake draws attention to a central table.
If you want your wedding reception to be unique and exciting, consider moving away from the traditional decorating ideas. Today's couples are choosing to get married in exciting new settings. Some brides love the idea of saying "I do" in a field of wildflowers, while others envision a ceremony in front of the Egyptian pyramids. Some couples love the idea of a wedding cruise with friends and families coming along for the ceremony and a week of parties and celebrations.
While all of these unconventional ideas sound like fun, they are also quite expensive. Fortunately, you can make your reception just as unique without leaving the country or choosing an expensive venue. You only need a little creativity to make your reception a fun celebration for all your guests to enjoy.
Unique Reception Décor for Winter Weddings
Many couples get married in the winter, surrounded by red poinsettias and brightly lit Christmas trees. If you want your winter wedding reception to be different from these traditional Christmas theme, consider decorating with snowflakes. You could decorate your tables with frosted glass vases filled with elegant white calla lilies.
You could also hang snowflakes from the ceiling to create a winter wonderland type of effect, and sprinkle tiny pieces of sparkly snow confetti on tables. Crystal china is a wonderful choice for winter weddings, and you can often find glasses etched with snowflakes for an added touch.
Serve hot chocolate instead of traditional punch and send your guests home with a special Christmas ornament shaped like a snowflake. This will be an unforgettable reception for everyone who attends your wedding.
Create a Unique Reception with a Contrasting Color Scheme
If you aren't the type of couple to go for white tablecloths and red roses, choose a contrasting color scheme to make your reception unique and fun. Two toned weddings are growing in popularity, as celebrities set the trends by pairing contrasting colors in interesting ways.
Pink and Orange are great contrasting colors that give a reception a modern look. Choose chair covers in a bright pink, with bright orange table linens to contrast the seating. Centerpieces could be made from beautiful arrangements of bright pink roses or tulips. You could also choose to mix in a few orange Gerber daisies for a stunning effect.
Lime green and turquoise blue make another great choice for contrasting color schemes. Pair these two colors together for a summer reception your guests will remember for a lifetime. Use turquoise table linens with lime color runners and chair covers. Add a turquoise sash on the backs of chairs and use lime candles covered in festive, turquoise tulle for an extra punch of color.
If you want a wedding reception that is untraditional, consider bringing in unique ideas and color schemes. Choose the theme that suits your personality or decide on a color scheme you love. Then find creative ways to make your ideas come alive in your reception decorations.