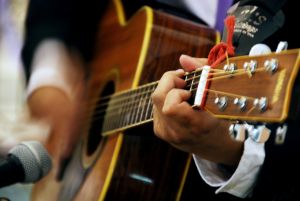 The wedding date is set, the venue is chosen, the bride's gown selected. What's left? Oh, yes, we need wedding entertainment!
Music can be a critical element for many weddings. It isn't just the music for the actual ceremony, which may be dictated by whether you have a church wedding or a civil ceremony. It's the music for the reception or post-ceremony celebration that helps make the wedding memorable for all.
Here are some recommendations for finding the right entertainment for your wedding.
Start the music search as soon as possible but not until you've secured your wedding venue, including reception. That's because you must adhere to the venue's requirements for entertainment. Be especially aware of any rules the venue may have regarding music performances, including DJs, such as band size limits, volume or other aspects. If you are celebrating your wedding at a religious setting, there may be additional qualifications regarding music, so be sure to ask.
Next, do a little brainstorming. Think about such things as budget, the wedding theme, your personal music preferences for both the wedding and the reception, and so on. For instance, will you and your guests want to dance a lot, or would you prefer to have background music for conversation? Will you have a large or a small guest lists and what size band would be appropriate for the number of guests?
Here are some additional suggestions for selecting music for a wedding ceremony:
Formal or Traditional: A string quartet, a harp, a classical guitar, a singer, or an organ (especially in a church setting).
Dramatic: Bagpipes, a full choir or a string quartet.
Fairytale or enchantment: A harp or harp and flute, or a sing.
Light or background music: A string quartet, guitar and flute, piano or piano and violin.
For the wedding reception, here are some options:
Formal: A singing group, a wedding soloist, a string quartet, a jazz band, a classical ensemble, or guitar(s).
Sophisticated: A jazz band, a classical ensemble, a piano, piano and violin, piano and saxophone and/or a harp.
Fun and lively: DJ entertainers, Live bands of any musical genre such as rock, swing, pop, Latin, Irish, polka or even Klezmer.
Once you've decided on a musical style, go about the task of choosing musicians in a methodical way. Start by asking for recommendations from the management of your wedding venue, which often has preferred bands with whom they like to work. Then ask for recommendations from the caterer, the bridal consultant, friends, relatives and co-workers. Attend bridal shows and do online research.
Be very selective about the candidates you choose to interview. Do as much advance research as you can to be sure about your preferences.
If possible, the engaged couple should attend all interviews with agents and/or bands. Take lots of notes. If you're computer-savvy, you can even set up a spreadsheet, assign values to various qualifications and come up with a mathematical score for each band.
Next, interview at least three bands, singers or entertainment provides. Comparison-shop diligently before signing a contract. Note such things as how well you're treated as a customer, how well they perform and how their proposed fee and services fit into your budget.
With a little diligence and care on your part, live music and entertainment will provide the perfect setting for a dream wedding.