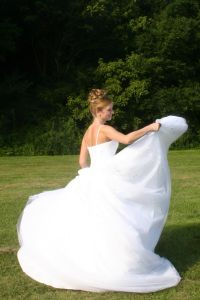 Every bride has a unique body shape. While some brides look stunning in an A-line dress with a long train, the same style can make another bride look short and squatty. Before you choose, a wedding gown, you should take into consideration what kind of body type you have. Use these tips to find the perfect wedding gown for your body shape.
The Pear
Aim for: You should look for a dress with a gradually flared A-line skirt. This will draw attention to the narrower waistline and skim over the larger hip area. Stiffer fabrics such as taffeta or a sturdy satin are better for this design as they don't cling. A V neck and or very thin straps will show off a slimmer upper half.
Don't forget: The A-line is a classic design which is particular popular for formal events such as weddings, but can also be used more informally when made from something more casual, such as lace or silk.
The Big Chest
Aim for: A scoop neckline will do you a huge favour. It will lengthen your neck, open your face and show off your cleavage without showing too much. If you want to go for a strapless design, make sure there is a dip along the neckline. Avoid a straight neckline as this will make your chest look even bigger and rather like a balcony.
Don't forget: Avoid fabrics with a sheen, like satin, silk and organza, as these make your chest look bigger and attract attention to it as well. A ruched or gathered design will do the same thing.
The Larger Lady
Aim for: A gown with an Empire line – the skirt begins immediately beneath your chest and flows away from your body to the floor in a gradual A line. The seam should start below your bust, not on it and there should be no pleats or you could end up looking as though you are expecting. The design should follow your shape to some degree – too loose and it will make you look even bigger.
Don't forget: A sturdier fabric such as satin will provide a firm line – fabrics which flow too much could cling more than you want them to. If the flowing look appeals, find a design which has a sturdy base and then add a flowing overlay, such as embroidered tulle.
The Apple
Aim for: A design which comes in at your natural waist and then flares gradually into an A line. The bodice should have some texture, ruches or lace details – this will fit snugly and give the effect of a corset while bringing attention to your upper curves. A deep V neckline will make you appear more slender as it will make the eye see vertically, rather than horizontally.
Don't forget: Stay away from designs which closely follow the shape of your torso and then flare out at your knees, emphasizing the roundness of your upper body.
The High Reacher
Aim for: Keeping the design simple. It should draw attention to your height, with a dropped waistline and reaching to the floor. Sleeves should reach beyond your wrists – the last thing you want is to look as though the shop didn't have anything long enough for you.
Don't forget: Being taller means that less is more. An excess of detail does not do tall people any favours.