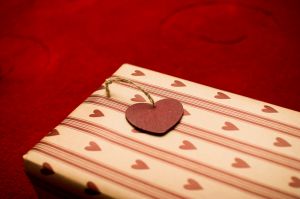 Do not let the thought of shopping for a wedding gift get you down or frighten you. With so many choices available in a wide range of prices, looking for the perfect gift does not need to be an event that causes you too much anguish.
Think over a few factors before you rush out shopping. How close are you to one or both of the party? Does this couple need specific items or do you feel free to be creative and give something totally unique and fun? Should you choose to go with fun and unique and leave pragmatic to others, here are some helpful hints to guide you in selecting a one of a kind, perfect wedding gift.
Heirloom Gifts
Heirloom gifts are a unique opportunity available if you are related to the wedding couple.
If you have family heirlooms you are willing to part with and pass on to the couple, an heirloom such as great grandmother's silver cutlery service would be a unique gift that only you could give. These gifts carry on family tradition and are a priceless way to pass on your good wishes to the couple as well as the generations to come. Heirloom gifts are sentimental, emotional and meaningful.
Commemorative Gifts
To create a commemorative gift, have your gift personalized. Glassware, jewellery and metal serving wares make nice special gifts when dates, names or other notations are added. You could even have messages embroidered on a pair of his n hers pyjamas or pillowcases for a very personal gift.
Intimate Gifts
If you are a very close friend of the couple you may decide on an intimate gift. There are many fun choices for intimate gifts, the most apt for the occasion would of course be a selection of saucy lingerie to wear on the wedding night. It is probably wise to warn them of the content so no one is offended or embarrassed at opening.
Practical Gifts
In the event the couple has registered patterns etc. at one or more stores, you can go the simple route and select from the list of desired items. You need not feel you are not being creative or not giving a "special" gift when choosing registry gifts. With registry gifts you know you are giving something the couple will use and that they really do want.
Using the Internet for Wedding Gifts
The Internet is a huge resource in your selection process for the perfect wedding gift. There is a multitude of websites advertising original gifts from all over the world. Choices range from traditional gifts like crystal or towels to artwork custom designed for the couple or figurines created from photos of the couple. Custom candy design is available for the discriminating, creative buyer. If you can imagine it, you can find it on the Internet. If you have no idea what to get, browse the web for an incredible variety of gift suggestions. When you find what you want, order well ahead of the wedding to assure on time arrival.
When selecting the perfect wedding gift you want it to be something the couple will remember and that will stand out as unique. Your gift carries your good wishes for the couple. Make it reflect your personality and the couple will always remember you.