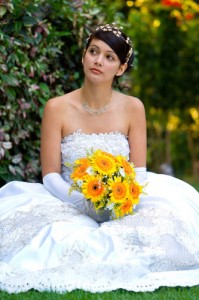 Your wedding dress may be the most important dress you will wear in your lifetime. It is therefore important to pick the perfect wedding dress, as you will only get one chance to flaunt it. Here are some tips on how you may go about choosing that perfect wedding dress that will make you shine on your big day.
It is best to do all the necessary research on wedding dresses about a year or nine months before the wedding event. This is so as to ensure that you remain savvy and on top of all the latest trends if you intend to have a stylish gown. You will find tonnes of bridal magazines that have photographs of beautiful wedding dresses you can choose from. All you need to do is cut out the most appealing designs of wedding gowns to get suggestions on how you will want yours designed.
You may also browse online websites that deal in wedding dresses and other wedding provisions for ideas on your gown. Find out where the stores or bridal boutiques that have your gown ideas are located, and then try to see if they have any discount facilities for wedding dresses.
A bride should try to book at least 3 appointments with these stores concerning her wedding dress. Shop around in showrooms, department stores and small boutiques that stock wedding dresses. Be sure to call ahead of your visit, just in case they require reservations. By visiting and shopping around in various bridal salons, you will be able to open your eyes to all the options you have when it comes to your wedding dress.
During your appointment with a wedding dress designer, it is more important for you to concentrate on the silhouette of the wedding dress. Do not forget to inform your designer about what sort of embellishments you wish to have included. This may be in the form of beading or lace. Also remember, that the season in which you will be getting married will also be a determining factor on the design of your wedding dress. If you will be getting married on a beach in the summer, your gown will be a whole lot different from a winter wedding dress.
Whenever you go for any fitting of your wedding dress, it is imperative that you bring along all the items of undergarments that you intend to have on during your wedding. This may include spanx, strapless bras and light coloured underwear, which will enable you to see how your wedding dress will look once you have the right undergarments underneath.
It is good to have a second opinion about your choice of wedding dress, so you might want to take a friend or family member along with you to your fitting. However, do not seek too many opinions from different people about your wedding dress as you may end up getting confused by all the voices. Try to pick someone with a similar fashion style as yourself, as they are likely to provide you with the most accurate suggestions for your wedding dress.