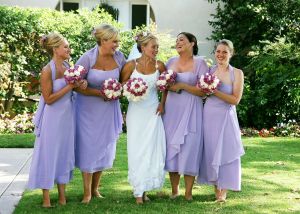 Bridesmaids Dresses – Choosing One Style To Suit All
Your wedding plans are in full swing and the time has come to pick dresses for your bridesmaids. With no two girls being the same shape, height, weight, skin colouring etc, the job of choosing a bridesmaids dress to suit them all can sometimes seem like an impossible task. What looks fantastic on one of your girls makes another's hips look big, and what looks good on her makes another's breasts too full. And the more girls you have, the more difficult the task becomes. What should be a fun time with your bridesmaids can turn into a stressful chore in the planning of your wedding. So, how do you go about choosing one to suit them all?
Get Input From the Bridesmaids
First of all, have a chat with your girls and find out what their likes and dislikes are. Chances are they don't like something because it doesn't work on them and this will give you a head start in ruling out colours or styles that just won't work. Sure you could be a bride-zilla and say, "It's my wedding, they can wear what I want!" but these are your friends and you asked them to fulfil this honoured role. You don't want them to just feel like the hired help for the day, do you? Ask them what colours and styles they like, you may get lucky and come up with a recurring theme which will again give you a head start in knowing what to look for, before you hit the shops. You might have to compromise on what colour or style you thought you originally wanted, but if it means the dresses look better on the girls then it will surely be worth it.
Get a Professional Opinion
Next, go out and get some expert opinions. Go into the stores that sell bridesmaids dresses and formal attire, try a few things on and get the sales people's advice. Remember this is what they do everyday, they know what they're talking about. Also remember however, that they are still a salesperson and don't let yourself get pushed or coerced into something that you don't like just because the salesperson tells you so. Shop around, get lots of opinions, that way you'll be able to see if someone is just trying to make a sale and you'll find the best prices at the same time.
Keep the Cost to a Minimum
Another thing to consider is the price of the dress and who is paying for it. If your bridesmaids are paying then be extra sensitive to their likes and dislikes. Yes it's your day, but it's their money that they're forking out to be in your bridal party, and for a dress they may never wear again. Be sensitive to their budget. Also consider the groomsmen. Be sure that whatever colour you choose for your bridesmaids dress, you are able to match in some way or at least compliment with what your groomsmen are wearing.
Take your bridesmaids with you when you make the final decision. You and the girls can go out shopping for the day, do lunch, talk all things weddings and have some fun in the process.