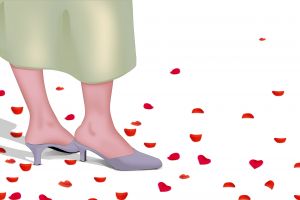 How To Choose Your Attendants For Your Wedding Day
If you've decided to tie the knot you'd be excitedly planning and looking forward to your big day. One of the things you have to do is to choose those that will stand by your side, your witnesses and helpers, your bridal party. How do you decide whom you will ask to fill these honoured positions? This can be a very difficult decision for a lot of brides. Your bridesmaids should be the people who have loved you and supported you throughout your lifetime.
Should You Choose Family Members?
Some people firmly believe that family members should always be first in line when it comes to picking your bridal party members. After all "blood is thicker than water" as the saying goes and your family will always be a part of your life. They have been there all throughout your life so far, so naturally it's your first choice to have them by your side as you make your promises to one another. For some it would create an all out war to not have family as the members of the bridal party. But what if you have an extremely large family and you want a small wedding party? How do you decide between sisters, cousins and aunts?
Friends Make Great Bridesmaids
Your family will always be a part of your life and a very important part, no matter where you go or what you do. Your wedding is your one chance to let your friends shine as the people who have helped you get to where you are. Maybe you have a friend who introduced you to your Groom. She would make the perfect maid of honour! Your wedding is one of your only great opportunities to say thank you to special friends. When you choose friends as bridesmaids, you can tell them what an important role they have played in your life. Friends can also, at times, fill the role of family members who were absent or unsupportive. Your best friend may be the sister you never had. It would be totally unfair to consider anyone else to stand beside you on your big day. In some cases, friends are a much better choice for bridesmaids.
Do not Choose Attendants Out of Obligation
Your wedding is a once in a lifetime opportunity. Don't choose attendants out of obligation. There will inevitably be people in your life you feel pressured to invite into the bridal party. We all know about family obligations. "You have to ask little Cousin Johnny to be something because you were in your aunt Sarah's bridal party when you were little." Then there's the friend that doesn't have many other friends and had you in her bridal party. These people are your friends but not your closest friends. At first glance, they are not the people you would consider for such an important role. Only now you feel obligated because you were in their weddings.
Keep It in Perspective
Whoever you decide to choose for your bridal party, remember that this is your special day. You and your future spouse have the right to choose whoever you want to stand beside you on your wedding day. Don't feel pressured to have someone in the ceremony simply because it's "the right thing to do." Make a decision you will be comfortable with and have whom you want by your side on this very momentous occasion.