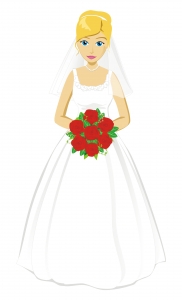 The Crowing Glory On Your Wedding Day- Choosing the Perfect Hair Style
Choosing the perfect hairstyle is just one of the major decisions that a bride will have to make before her wedding. This is perfectly understandable since your chosen hairstyle for her wedding day is an essential factor for pulling off the perfect bridal look. If you end up having a bad hair day on the day you get married, your photos will be proof of it for the rest of your life. Fortunately, if you have a great hair style on your wedding day, it can be the crowning glory of an otherwise perfect look.
Do a Trial Run

The most important step in choosing your wedding hairstyle is doing a test run. Find a fabulous hair stylist and let him or her practice on your hair a few weeks prior to your wedding day. Take various pictures from every angle possible with every facial expression possible. Then, study the pictures and decide which hairstyle you like the best.
If you feel that the styles are lacking something, start from scratch and do another test run with another stylist. Keep doing this until you find the hairstyle that really brings everything together. It is really important to actually take pictures of your hair to give you a whole new perspective on things; simply looking into the mirror just won't do it.
If you are going in for an elaborate hairstyle, it is important that you walk around with your hairstyle during the test run to gauge how comfortable you are with its height and weight. Very often, simple styles tend to work much better than elaborate up-dos. Complex hair styles may prove to be too delicate and might begin to fall out before the ceremony is over. Your wedding day includes photo sessions, the wedding itself and a reception, which could last for hours. You will definitely want to choose a hairstyle that can stand the test of time.
Other Factors to Take into Consideration

• Hair Texture- Your hair texture should also be taken under consideration. If you have coarse and thick hair, wearing your hair up is ideal, while fine and slick hair will look better if the front is put up but the back is kept down.
• Health of the Hair -Lastly, make sure that your hair is at its best health on your wedding day by taking the best care of it for months ahead. A lot of deep-conditioning treatments are available at a highly affordable price, which you can also do at home. However, don't treat your hair on your wedding day itself; otherwise your hair might end up looking greasy and flat. The same also goes for chemical treatments
• Wedding Gown- Before you decide on a hair style, you should consider other details of your wedding. If you plan on having an informal wedding during the day, loose styles are best, while formal weddings during the evening call for up-dos. Make sure that your hairstyle fits your body type and your wedding dress. All of these factors should fit together like a puzzle, in order to create the perfect look.
• Bridal Veil- If you plan on wearing a veil, you must make sure that it fits your hairstyle well. It would be smart to get your veil first or at least know what kind of veil you plan on getting. Tiaras are also popular nowadays and look absolutely stunning on a romantic up-do.