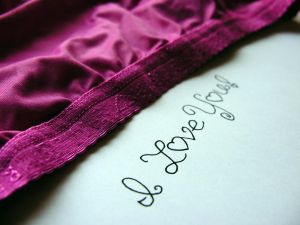 Can't stop dreaming about the wedding gown you have finally chosen to wear on your wedding day? For most women, shopping around for their wedding gown and all the bridal accessories can be the most exciting part of the lead up to their wedding reception. There's one important part of a bride's apparel that often gets overlooked though and that is the bride's lingerie.
Choosing the perfect lingerie is important and if you were thinking why bother about something that nobody is going to be able to see; you'd be making a big mistake. The right bridal lingerie will insure a great fit and silhouette under your wedding gown. It will also impart a seductive touch to your wedding night and will be a hint of things to come in the years that follow.
Bridal Lingerie Should be Appropriate and Appealing
Before you choose bridal lingerie, you will need to know the style and cut of your wedding gown. If you are wearing a strapless dress; a corset or strapless bustier will offer sufficient support and an appropriate hint of cleavage. If you plan to wear a thin wedding gown made of silk or satin, you will need bridal lingerie that is smooth and subtle, with no visible lines.
The bridal lingerie you choose to wear should also work with your body type. It should be just the right size and offer just enough support. Your lingerie should be neither too tight nor too loose but should offer a snug fit with the perfect amount of control. The right lingerie can effectively smooth out any body imperfections. When a bride slips into some sexy lingerie, she will immediately feel more confident and radiant for her wedding day.
Bridal Lingerie Should Provide Practical Support
One of the most important aspects of bridal lingerie is that it should offer practical support beneath your wedding gown. Keep these tips in mind when you are shopping for the perfect amount of support.
• Corsets are a classic choice for brides. When you select a beautiful corset, it will cinch your waist and give you the appearance of a trimmer waistline. Corsets also give the breasts a natural lift, creating the perfect hourglass shape that every woman dreams of.
• Bustiers are similar to corsets but they offer more control in the midsection. Brides who want to hide unsightly belly bulges should choose a bridal bustier. They are the perfect choice for plus size brides who need an extra slimming effect to fit into their dream gowns.
• Some brides are concerned that lingerie with a lot of postural support will appear too matronly on their wedding nights. Basques are the perfect compromise of support and sex appeal, with enough control to smooth a waistline or enhance a small chest.
• Adhesive bras offer support and coverage for brides who choose dramatic, backless gowns. You should try wearing an adhesive bra every now and then in the months leading up to your wedding. They feel a little different than a regular bra and getting them stay in place can be a bit tricky. If you get some practice ahead of time, an adhesive bra will be a perfect choice on your wedding day.
Select Lingerie that has a Touch of Sex Appeal
Some brides prefer to change into something with a little more sex appeal for their wedding nights. If you plan to go on a honeymoon, you will want several beautiful pieces to wear for your Groom. Honeymoon lingerie can vary from long, elegant nightgowns to sexy teddies or seductive lace-up corsets.
When you shop for the perfect bridal lingerie, search for pieces that are both practical and pretty. You can achieve the perfect touch of sex appeal with bridal lingerie in various styles and colours.