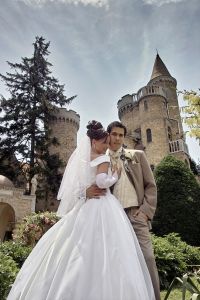 Choosing The Perfect Wedding Gown For Your Body
Did you as a little girl, dream up the perfect gown that would make you look like a fairytale princess on the day you married your prince charming? So how do you go about making this dream a reality? There are a few things to consider when looking for your perfect wedding gown.
Most of us don't have fairytale bodies and we have to take that into consideration when shopping for a wedding gown. Walt Disney never had to think about those things for his princesses. The all have perfectly proportioned bodies but we have to be realistic! However, irrespective of what your body type is, choosing the right gown for your personal shape will make you feel like a princess on your special day.
Get a Few Ideas Before You Start Shopping
You may have some ideas of what style of dress you like. Even if you have something in mind, you should take a few minutes to go through some bridal magazines to cut out some pictures of gowns you like to take with you on your dress hunting expedition. You may have a pre-conceived idea of what colour you would like your gown to be. Traditionally brides chose from either white or ivory but nowadays any colour is acceptable; it depends entirely on your likes and plans. Just remain open minded. Remember that the dress you love in a magazine might be completely wrong once you try it on!
Take Your Body into Consideration
Do some research to find out what style of dress is best suited to your body shape. Always try to go for something that hides your flaws and emphasizes your good features. The last thing you need to be worrying about on your big day is "Does this big ballroom style skirt make my butt look big?" Make an honest appraisal of yourself and then go and search for a gown that will make you shine.
Stick to Your Budget
Unfortunately one of the other things we have to consider when shopping is our budget. You may be lucky enough to be able to say, "This is my wedding day, there is no budget," but for many of us this just isn't the case. Shop around! Bridal boutiques are feeling the pinch too so if you're brave enough to do a little negotiating you may be able to afford the gown you love so much after all. Remember there are other alternatives to shopping in the boutiques.
You may be able to find the material and have a dressmaker make the dress for you cheaper than what you can buy it off the rack for. And then of course there are plenty of services, like Ebay, for purchasing pre-loved and worn wedding gowns. Just be careful when purchasing this way as you may not be able to try on the gown first or it may not be as described. Just check out the buyer and don't be afraid to ask as many questions as you need to!
If you don't completely hate it, try it on! It may not be anything like what you think you wanted, but you may just find a gem in something that looks like a stone on the hanger.