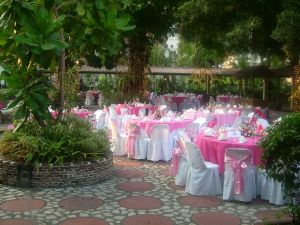 Choosing Chair Covers For Your Wedding Day
When you choose your wedding venue, choose a location that will allow you to decorate according to your dreams. Renting beautiful chair covers can transform any venue and create a soft, romantic atmosphere for your wedding day. You can change the entire feel of a venue and with the help of chair covers.
Find the Perfect Vendor to Eliminate Stress and Worry
Weddings evoke stress from even the calmest brides. There are so many small details to attend to, from flowers to the cake to the guest list. You can eliminate stress and worry if you delegate wedding tasks to great vendors. Interview people and choose the perfect vendors to take care of flowers, catering, and venue décor.
Decorating for a wedding can be quite overwhelming. If you choose to have family and friends take care of this task, you may sacrifice the look you have always envisioned for your special day. If your décor will be elaborate, consider bringing in a professional to put together the perfect look so you can focus on other things, like your groom!
Most professionals will help you find a great rental company that deliver chair covers. While the covers are fairly simple to use, they typically have elaborate bows that need to be tied in the back. If you are short on time, you should ask the rental company to cover the chairs and tie the bows. Most will do this for a small fee and it will save you hours of work.
Hire a Company to Provide Chair Covers to Save Time and Money
When you look for a chair covers at various vendors, browse through various styles and colours. You can find chair covers that will be suitable for every wedding theme imaginable, so don't settle for something that isn't perfect on your wedding day. When you hire a company to bring in chair covers, you will get beautiful décor specifically tailored to your theme.
Chair cover vendors are experienced with making a wedding venue look amazing, so you can have peace of mind that they will do a great job. They are professional and work quickly, to make sure the chairs are completely covered and you are satisfied with the décor. Most companies will cover your chairs the day before your wedding, but if you are using an outdoor venue, they will often deliver chair covers and decorate on your wedding day.
Rent chair covers to transform your wedding venue with less stress and worry. They are much cheaper than buying fabric to cover your chairs, so you will save a lot of money. Professionals will come and set up your chairs and tie those elaborate bows, so you will also save a lot of time.