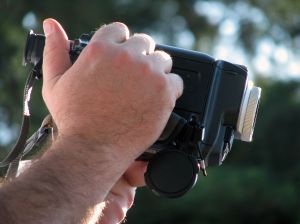 It's great to be able to relive your wedding years on while flipping through your album full of photos of the most important day of your life. But what's even better is being able to watch everything that took place on your big day in living colour video. To do this, you must ensure that you select the right videographer who will capture your wedding day in a video that you will treasure forever. Below is some advice on how to go about selecting the right videographer for your wedding.
If your budget is tight, you may opt for the basic videographer service that's provided by the "point-and-shoot" videographers. This type of wedding videographer will do exactly what his name suggests - point and shoot. It will save you money, true, but you shouldn't really expect any thing out of the ordinary in terms of video quality and techniques. If you opt to go with a professional videographer, you are sure to be dazzled by all their tricks when it comes to sound effects and animated graphics. Or if you feel that your video might end up looking too cheesy, be sure to inform them beforehand so that they capture your wedding moments with the dignity they deserve.
Another thing you may want your wedding videographer to include would be some music to go along with the scenes. Be sure to specify exactly which kind of music beforehand.
You may also opt for the documentary-style wedding videographers who may be having degrees in broadcast journalism and will therefore present the final product in a very thoughtful and dramatic way, with the added touch of a cinematographer. The gimmicks you can expect from such videographer experts included effects such as split-screen images and turning some of the wedding scenes into black and white while having some in colour. With all their applied skills in editing, your end video should be a lot of fun to watch.
If you have some extra cash to spend, you may indulge yourself by going for an actual filmmaker to shoot your wedding day. This may cost a tiny fortune but you should expect to be captured looking very glamorous and have a very classy wedding video to boot. The end video will be captured on motion picture film, the format used in Hollywood films, or in the film version which is more expensive.
Ask around from friends and family and have them recommend a good videographer. You might also want to surf online to find videographer websites with sample reels that impress you. And when you decide to meet your potential wedding videographer, be sure to ask to view an entire, edited tape from a wedding to enable you to see whether they are the right videographer for your big day. And don't forget to ask for the date of completion. This is because you will most likely still be in the "zone" and want to relive your wedding day right after you return from your honeymoon. It would be great if your wedding video could be ready and right there waiting for you when you get back.