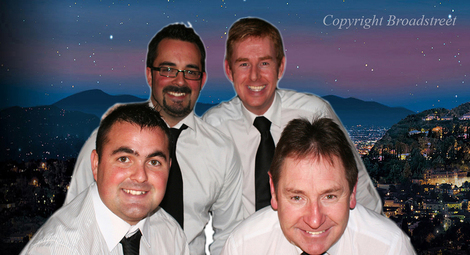 After playing at a recent wedding in Faithlegg House Hotel, a couple came up after & asked the band would they play at their wedding that they would really like to have them as part of their big day. As they talked more they asked the band if they would mind travelling, that their wedding was going to be in Spain. The lads looked at one another and were a bit apprehensive at first but when the couple said that the wedding was going to be held in a private villa style hotel up in the mountains of the Costa del Sol, they began to relish the thought. They began to laugh then as this reminded them of a wedding that they played for in Dunfermline Scotland some years ago, & the couple organised a little tour for the band so that ended up staying & playing for a week in different pubs & clubs, they had a fantastic time and really went well with the crowds. So now they are all set and looking forward to the trip in May.
ALSO BROADSTREET SPECIAL:
Broadstreet Band are offering a free after band disco with every Wedding booked between January and April, so you can have a top class band that won't be costing the earth. As the band say them;
"Broadstreet are professional but affordable."
To contact the band: 0872835912 and/or [email protected]