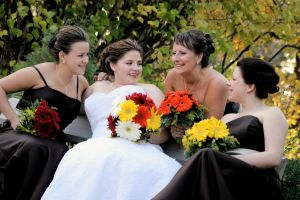 Should You Have A Bridal Shower?
So, you're getting married? Congratulations! In all the preparations for the big day, the subject of a bridal shower has probably come up and now you're wondering whether to have one or not.
Traditionally a bridal shower was for the bride to receive gifts that would be of help to her as she embarked upon a newly married life. The gifts a bride to be commonly receives are household items. This was a tradition that began when girls lived at home until they married. Today's woman is much more independent. Many brides live independently and already have the household items they would need to run a home. Lately, a number of brides have dropped the bridal shower as an outdated, defunct boring affair. So, should you have a bridal shower or not?
Revamp Old Ideas
You don't have to abandon the tradition of bridal showers. Instead, just revamp the old ideas and come up with a new, creative angle for your shower. There are many fresh new ideas out there breathing life back into this age-old tradition. You can use a bridal shower as an excuse to spend an afternoon with the girls having a laugh, a glass of bubbly, and a general gossip session. There are ideas you can use to have a themed shower, which can give you direction and some form of structure when organizing things like invitations. They will also help guests to know what gifts to bring.
Consider the Items You Need
Get started by deciding what you may actually need and base your theme around that. Say for instance you have all your household items but you need items for the garden. You could hold the shower in the garden (providing the weather is accommodating), design your invites and decorations accordingly and guests can bring gift items relating to the garden such as a new garden hose, small gardening tools, and even garden accessories. Who says you can't get a birdbath or a gnome for a bridal shower gift? Depending how many guests there are, they could even pool their cash to buy some of the larger items like lawn mowers and lawn edgers. Make sure you tell your guests on their invites about the theme and that garden related gifts would be greatly appreciated.
Make it a Celebration of Who You Are
Although organizing bridal showers is better left to one or all the bridesmaids, another great idea is to have a bridal celebration, rather than a shower. Have a celebration of who you are, your life up to this point and the new life you are about to embark on. Guests can bring gifts intended just for you, maybe pampering items such as gift certificates for massages and pedicures or a book by your favourite author, or items related to your hobby. You can also ask each woman to write down their favourite recipe or their hints for having a happy, lasting marriage and you can keep these as a memento of your fun afternoon.
A bridal shower doesn't have to be an old fashioned, boring, outdated affair with toilet paper dresses or embarrassing quizzes about your personal life. Do some research and get creative. Better yet, let your bridesmaids organize it and find a fun relaxed idea that suits you and your needs.