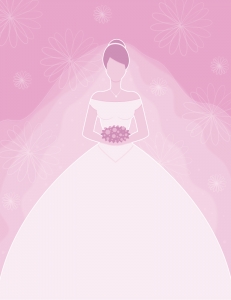 The mother of the bride and the mother of the groom are two people who will be feeling the most sentimental at the thought of the impending marriage. Being left out of the wedding preparations can cause a lot of hurt feelings even if they choose to stay, well… mum about it. So how can you involve them in the wedding and still keep it your wedding?
Carefully monitored choices and timing are essential in preventing wedding day blues that may lead to strained relationships for years to come.
Spend Time with Both
First you should schedule some meetings and shopping trips with the moms. Make sure that you all are together. Let them help plan the budget for your wedding. You may be surprised at the money saving tips they can offer. One of the most important of these trips will be shopping for the mother's dresses.
Traditionally the bride's mother buys her dress first but there are many reasons why this may not work out so, to save time and frustration go together! Pick your colours before going on this trip. Try to pick colours that will look nice on the wedding party members as well as the moms. Take colour swatches for them to use as a comparison.
Give gracious input to any selected outfits and know when to pick your battles. If someone picks something you really dislike, rather than insulting the choice, say something like, "I was hoping you could all wear complimentary outfits and I'm not sure that outfit will go well with the others." This will make them feel as special as they will look. Besides choosing their dresses let them help you pick yours.
Its inevitable that tastes will differ but since the wedding dress purchase is the most important purchase of the wedding, let them help. To ensure you mange to choose a dress you love and still make them feel like it was their choice, here's what I would suggest:
First go shopping without them and narrow your decision to two or three dresses. Then come back to the dress shop with them and let them choose. If they can't make a decision, flip a coin to decide. This way you don't appear to have taken sides. It is important to involve them in the planning as well as the decision making.
Give Them Something to Do
Give each mother at least one task. Make it something that involves no decision making just organizing. Perhaps you could pick a DJ service but rather than making the arrangements your self you could ask one of them to do it. The same could be done with church arrangements. Pick out a church and three or four wedding dates just in case your first choice is not available. Then ask one of the moms to book the church for you. Ask them to get specific details; some ministers require marriage counselling before they will perform a ceremony. If this is the case you and your fiancée should contact the minister to set up an appointment. By assigning these jobs you have lightened your load and made them feel like an indispensable asset. Your mothers will continue to be an indispensable asset for the remainder of your lives.
Do not endanger the relationships held with your mothers. It is very simple to include them in your wedding plans without allowing it to become their wedding. If you do feel a power struggle coming on, call for a girl's night in, order takeout and watch the movie Monster-in Law. This will make your feelings towards their behaviour perfectly clear without causing a riot. As simple as these instructions seem they really can improve your relationships. This will give you firmer foundation in times of need.