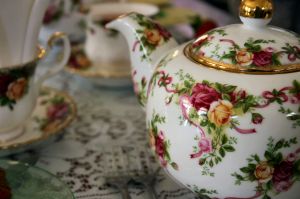 Having a tea reception on your wedding day may be one of the best ways to save money on your wedding reception. Compared to serving dinner or lunch, creating a tea reception will significantly lessen your wedding costs.
Venue
You might be wondering where you can hold a tea reception. Well, there are a number of wonderful places that you can choose from. A romantic bed and breakfast would be a good choice, as it would give your reception that Victorian era element to it. You can also choose a park or a beautiful garden. With the greenery and stunning nature around you, your reception will surely be something that's very hard to forget.
Table Arrangement

There are countless ways on how to decorate the guest tables. Of course, you will need to put teapots and tea cups on every table. For the flowers, you could put them in teacups. Sprinkle some rose petals on the tables to give the event a more romantic feel. Place a simple white card with the guest name on the table for a more organised seating arrangement.
Food
Preparing food for the tea reception is quite easy. You could serve cookies, cupcakes, scones, fruit and sandwiches. Give your guests a variety of food choices by serving different pastries. Serve hot or cold tea depending on the season. For your wedding toast, remember to serve wine or champagne.
Cake
For your wedding cake, you might want to choose a three-layered white cake with a tiny teacup filled with flowers as your cake topper. If you are having a small, intimate wedding, you may want to choose a smaller cake.
Invitations
Once you have decided that you want to have a tea reception, make sure that you state this on your wedding invitations. This is important because you wouldn't want your guests to expect being served a full meal during the reception.