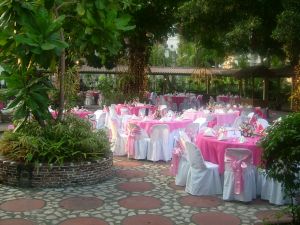 What makes a wedding even more special is the personal touch that the couple adds to it. However, with so many wedding details to take care, couples tend to forego it. Putting some personal touch into your special day doesn't require a lot of imagination and creativity. Remember that you don't have to be an artist to add something unique to your wedding. Below are some ideas that can inspire you in putting some spice into your big day.
Monograms
Incorporating your own monogram in every detail of your wedding is a wonderful and affordable way to make that event more distinctive. It also adds certain elegance to your wedding. Put monograms on your invitations, wedding favors, RSVP cards and your wedding cake. If you are having a formal wedding, you could use a font with a cursive script. If you are having a wedding that's more casual, try looking for a script that looks more playful and adorable.
Some couples take this even a step further by having their monograms on the table linens, table napkins and chair covers.
Colors
While more conservative couples choose only white as their wedding color, some couples now add a splash of colors into their wedding theme. For example, you can choose red as your accent color and white as your wedding's major color. Once you've chosen your accent color, add it in unexpected places. You might also want to use flowers in colors other than white. Give your wedding more character by adding your accent color to your wedding cake, invitations, flowers and other wedding details.
Photographs

Photographs hold memories and the best time to share them is through a slideshow presentation to your friends and family. While your guests enjoy their food, you can show them some photos of you and your partner. This could include childhood photos or photos you've taken during your travels together.