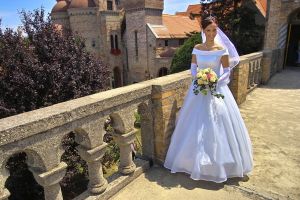 Wow, time does fly really fast. Less than two months to go and we'll be starting another year! This year, we witnessed tons of celebrity weddings and the beautiful royal wedding of Prince William and Kate Middleton. So let's take a look back at the most popular styles of wedding dress for 2011.
Lace
Ever since Kate Middleton stepped out of her royal carriage wearing a stunning Alexander McQueen gown, lace sleeves has been a popular choice for bride-to-be's. Lace sleeves define elegance and classiness.
Ruffles
While some people aren't into ruffles, ruffled gowns are actually one of the top trends for 2011. This is for women who want to create a fun and romantic look. The cascading layers of ruffles create a sexy and unique look.
1950s Style
1950′s-inspired gowns are great for women with an hour-glass figure. This style has appeared in many runway shows and magazines. Tea-length dresses are perfect for those who envision a vintage wedding.
Flower details
Dresses with flower details are in vogue this year. I see a lot of one floral strap wedding gowns and they're very pretty. Whether it's a small detail or not, it certainly adds to the femininity to the dress.
Bows
Whether on the back of the dress or on the front waistline, putting a bow adds to the wow factor in a wedding dress. Adding a black sash with a bow creates a bolder and more unique look.
Sleeves
A lot of women get pressured into wearing a strapless dress just because it's in fashion. This year, however, is the year of sleeved dresses. We all have to thank Kate Middleton for propelling this trend.
Ballgowns
Ballgowns were and still are in vogue, especially in the bridal fashion world. If you're having a Fairy Tale inspired wedding, you should definitely wear a ballgown!