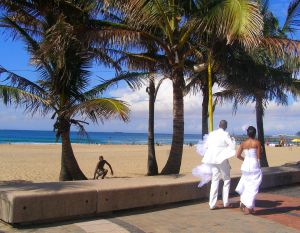 From choosing exotic locations like European castles  and Indian palaces, everything should be extraordinary for most celebrity couples.   These over-the-top and extravagant weddings have made headlines all over the world and have left all of us mere mortals in awe. Read on for some of the entertainment world's most lavish weddings.
The Ring
While most women are happy to be given a .05 Ct. engagement ring,   such will not bode well for celebrities.   Most celebrity brides' engagement rings cost twenty percent more than the average bride's wedding expenses! It can be remembered that Jennifer Lopez whipped out an astonishing 6-carat pink diamond ring when she was engaged to actor Ben Affleck.   Kate Hudson and Chris Robinson's romance led to her sporting a five-carat engagement ring.  Michael Douglas stunned everyone by giving Catherine Zeta-Jones a stunning   10-carat vintage diamond ring. David Arquette and Courtney Cox customized their wedding bands by having the words "A deal's a deal!" engraved on the inside.
Say it with Flowers  
Celebrities splurge on beautiful premium flowers as flowers help set the stage for a wedding. Denise Richards opted for something traditional by using white roses for her bouquet. For Jennifer Aniston, her bouquet was made from green hydrangea and vendella roses.   Leanne Rimes kept it romantic by choosing a beautiful boquet of freesia, hydrangea, roses, and sweet peas.
Location
A great location is crucial for your wedding.   For celebrities who have money to burn, they can literally choose any location they want, from exotic sites to some place more homey and personal like their own home.  Tom Cruise and Katie Holmes had a castle wedding in Italy, while Barbra Streisand got married in her own home.
Destination Weddings
A destination wedding is what some celebrity couples have to evade the paparazzi. This trend allows celebrities to enjoy privacy on their most special day. With their money, they could easily fly their family and friends to some undisclosed location to be with them on their wedding. Javier Bardem and Penelope Cruz got married in the Bahamas with only friends and family   in attendance.
Dreams Do Come True
Even though you're a not a celebrity, remember that you still have endless options when it comes to your wedding plans. Having a celeb-styled wedding can be achievable. Add a personal touch to your wedding bands. Choose flowers that suit your character. Select a location that will allow you and your guests to be comfortable. Invite people who matter and have a great time.