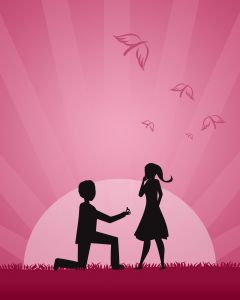 It's not the invasion of Normandy but a truly beautiful wedding won't come off without some planning and discipline. While we don't want you to turn into a "bridezilla" obsessing about controlling every detail, without a good plan - including a budget - your forthcoming marriage could seem more like World War II than the romantic event you and your intended desire.
Here are five top guidelines to help you create a lovely wedding day and reduce the stress of preparing for the big event.
1) Plan A Budget
No matter whether your budget is €1000 or €100,000, you'll find wedding services are available to suit your needs. Start by asking friends and relations for references, and then start comparing prices and services. This is where you decide on such things as the kind of wedding venue and reception, including the wedding food, cake, and type of meal. Assign cost ranges for all those items as well as wedding clothes, gifts to the wedding party, stag and hen parties, photographer, videographer, stationery, cost of licence, fees to the wedding officiant, etc. There are many online guides that will help you extend your list so you don't overlook anything.
2) Find A Venue
Choosing the perfect wedding venue takes time, so it's wise to start early. That's because many of the most popular wedding sites are booked far in advance. In fact, the availability of your wedding venue might actually determine your wedding date. Don't forget to think about your wedding night as well, because not all registered wedding venues in the UK are also hotels.
3) Purchase Wedding Insurance
Sound crazy? Once upon a time, yes. But did you know that today the average wedding totals around €17,000? That's a big investment to lose if something goes wrong. In fact, today many wedding venues won't even let you book unless you have wedding insurance, including liability coverage. It's not romantic to have to think about things such as liability, but it's even less romantic to face huge expenses if something happens.
4) Choose A Guest List
When you set up your budget, you probably were already thinking about how many guests you would invite. The way to build a guest list is simple: Start with the people closest to you, such as the wedding party, family members and close friends. Then work out from those relationships.
One way to organize the guest list is to get a really big piece of paper and put the bride's and groom's names at the top. The start listing the most important people related to each. Don't try to cull out names at this point. Simply start writing names down and keep going until you run out of names. When you think you have all possible guests listed, start assigning them to categories such as "immediate family," "extended family," "close friends," "boss and co-workers," and so on. Now start crossing out names and swapping out numbers. Be as flexible as you can with one another, but don't leave someone who's important to either of you.
5) Choose a Wedding Dress
For many women, this step is the most exciting. Women of any size or shape can find exactly the right dress for their wedding with a little care and effort. In fact, there are even services now that offers "pre-owned" wedding gowns that can save lots of money when you're on a tight budget.
In choosing a colour theme, wise brides consult with bridesmaids, ushers, parents and the man of the hour, the groom. Expect to spend some time on this process so that the entire wedding party coordinates. And brides, if at all possible, do be considerate of your bridesmaids in choosing their dresses.
Smart brides know that there's nothing wrong with enlisting plenty of help to plan and coordinate a wedding. The point is to create an event that's a joyous memory for all involved.