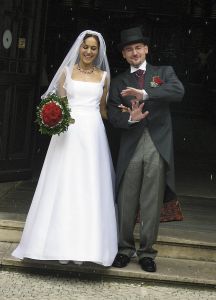 All the considerations that go into wedding dress shopping are a bit of a minefield. Whether you're a body confident woman or cover lumps and bumps at all costs, it's a challenge nearly every bride faces. Heather from Leeds Bridal shares her top 5 tips to getting it right, without finding yourself lost or in tears.
1. Don't assume you know
Many women have had a vision of their dress for many, many years and are fixated on the dress of their dreams and spend time (and often money) desperately trying to find it. Even though we often make dresses that exist as ideas in people's heads, we often find ourselves bringing brides down to earth on the dress that would actually suit them. A great starting point is using the fit of your favourite dresses as a guide, trying a wide range of dresses on and working from this information to find a style that suits you.
2. Fabric choices
The range of fabrics that can be, and are used in the creation of wedding dresses is vast. From medium weight crepe backed silk satin through to polyester/elasticine tulle, there are fabrics that are more suitable for dying, or more suitable for different temperatures. Considering whether to go for a man made fabric or natural fabric is a genuinely useful consideration. If you run hot, or are getting married abroad, a natural fabric such as silk is much more appropriate than polyester. Satin, by the
way, isn't a different fabric to silk – satin is silk, unless it's a polyester replica of the fabric, in which case it is polyester satin. It can be incredibly confusing when understanding the fabric your dress is made from, as polyester replicas are so realistic nowadays. If in doubt, ask.
3. Wearability
One of the biggest difficulties for brides on their wedding day is lack of comfort. If you genuinely don't mind potentially being in agony and unable to use the loo without assistance, because the day makes it all worthwhile, then this tip isn't for you. If you do care about being comfortable, our top tip is to sit down in the dress. Most brides never try. It's critical to do this to ensure nothing is digging in where it shouldn't be and it's not so tight that you can't breathe.
4. Don't forget the shoes
When having your wedding dress fitted, it's likely that you'll either be having the length custom made to you, or altered to work with your height. Your seamstress will need to know the height of the shoes you're wearing before first fitting so you need to get them sorted quickly, this means that the length of the dress will be perfect if you're wearing the shoes for the day at your fitting. Risk it and leave them to the last minute and you genuinely risk the dress looking too long, or worse, too short, and as all eyes are on you on the day, you have to get this right.
5. Underwear isn't the last thing on the list
Most brides assume that the lovely underwear they need for the day is almost the very last thing to buy. Realistically, you should have it before you have your dress. If you want a dress to fit you perfectly, changing your underwear throughout the purchasing and fitting process makes a big difference to the look of your dress. This is particularly true if you're having a dress made to your specifications as a few mm change can be very noticeable.
If this list could have had just one more addition, it would have been a genuine recommendation to ensure you enjoy the process. Choosing the most amazing dress you'll ever wear shouldn't be stressful, have an open mind, try on dresses you'd never normally consider and take your time with your decision, it's all about feeling amazing on the day.
Heather is owner of bespoke bridal service, Leeds Bridal, creating custom-made wedding dresses, designed to individual specifications.