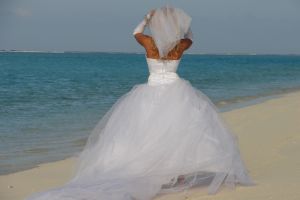 Celebrities are considered fashion icons. Whether they're strutting on the red carpet, relaxing on the beach, or enjoying an afternoon walk, people always notice what they wear, and they always end up on magazines and televisions. This is why when they have a fashion fail, it's headline. But, when they come as extravagant and as fashionable as the movies, everybody tries to imitate them.
Because in weddings, the bride's gown is considered to be one of the highlights, it has to be perfect. And inspiration is taken, where else but from the celebrities. Take inspiration from these five best dressed celebrity brides.
5. Porta De Rossi and Ellen Degeneres
Two brides with two totally different looks, both brides are dressed by Zac Posen. Portia De Rossi chose a very feminine and dramatic backless gown. Not going with the traditional pure white, her ballerina inspired skirt comes in a pink tulle. Ellen DeGeneres on the other hand was wearing white pants and   a dress shirt.
4. Carolyn Besette
Narciso Rodriguez designed the beautiful and simple bias-cut silk dress that Carolyn Besette wore during her wedding with John F. Kennedy during 1996. It has established both Rodriguez and Besette as two high class fashion icons.
3. Gwen Stefani
Gwen's awesome and out of the ordinary wedding dress really worked with her personality and looked absolutely stunning. During her wedding with rock star Gavin Rosdale, her dress spoke of punk and delicacy. Proof she rocks not only the stage, but also the catwalk.
2. Elizabeth Taylor
Everybody knows Elizabeth Taylor and her exquisite beauty and absurdly small waistline. One of the reason why her wedding gown was basque-waisted and costs $14,000 in dollars today.
1. Kate Middleton
Kate Middleton, the princess of today's time looked the part with her wedding dress designed by Sarah Burton. She had a simple hand-cut English lace and French Chantily lace dress. With over 2 billion people watching her wedding, this dress is a great inspiration for coming brides to be.