Crowne Plaza – Blanchardstown
Crowne Plaza – Blanchardstown, Blanchardstown Centre, Dublin 15
Phone: 01 897 7731
Mobile:
Fax: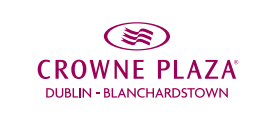 Weddings at the 4 Star Crowne Plaza Dublin Blanchardstown are modern, contemporary, exclusive and delivered by a very experienced and professional team.
The Crowne Plaza skills and experience in service, food, design and customer care ensure that you and your wedding guests will enjoy both the superb facilities and exceptional world class service one would expect from such a prestigious name.
Our beautiful Heather Suite is located exclusively on our first floor and has every thing you need for a special memorable day.
With Our Compliments – Included as standard in all our packages
Dedicated Wedding Planner who will assist you throughout the planning of your perfect day
Red Carpet Welcome & Champagne arrival for the Bride & Groom
Tea & Coffee with a selection of Biscuits for all guests on arrival
Fresh Floral and Candelabra Arrangements on each table along with mirrors and night lights
Complimentary Accommodation in a Luxury Suite for the Bride & Groom on the
night of your wedding with Champagne Breakfast the following morning
Choice of silver cake stands and knife
Personalised menus & seating plan
Menu & Wine Tasting for the Bride & Groom prior to your Wedding date
Special Accommodation Rates for your guests
Complimentary Car parking for your Guests
Complimentary Room Hire for Heather Suite and Private Bar
Your choice of fibre optic lighting in our Heather Suite to match your colour scheme
Complimentary Room hire for Civil Ceremonies
1st Year Anniversary Complimentary Bed, Breakfast & Evening Meal
Please note that all packages are on a minimum number of 100 guests; please speak to our Wedding Organiser for a tailored package for less than 100 guests.
To view our wedding package please click here – http://www.cpireland.crowneplaza.com/files/1413/6128/3237/Blanchardstown_Weddings_Brochure_new.pdf
To download our wedding brochure please click here!
Civil Ceremonies
Crowne Plaza Dublin-Blanchardstown offers a facility for civil ceremonies.
Our 1st floor ceremony room is beautifully decorated and benefits from lots of natural daylight. The room is available to hire for your ceremony and in addition we can assist you with any additional decoration of the room.
Civil ceremony registration forms can be obtained by calling the Civil Registration Office on 01 678 7114
Contact our Wedding Co-ordinator for more information [email protected] , tel: (01) 897 7777.
Our Wedding Packages
Gold Wedding Package- €59.00 per person
Arrival Drinks
Fruit Punch or Mulled Wine and Tea, Coffee & Biscuits for all your guests
Wine
½ Bottle House Wine per person served with dinner
Late Bar
Evening Buffet
A selection of freshly cut sandwiches with tea & coffee
Accommodation
Bride & Groom in Bridal Suite on the night of the wedding
Wedding Meal
5 Course Wedding Dinner from our a la carte menu selector
One Starter of your choice *
***
One Soup of your choice
***
Choice of two main courses from the list below:
Herb Roast Breast of Chicken
Chorizo & white bean cassolette, basil & toasted pine nut cream
Baked Fillet of Salmon
Courgette & tomato compote and sorrel cream
Herb Roast Crown of Turkey and Honey Baked Ham
Herb and onion stuffing roast gravy
Roast Stuffed Loin of Pork
Horseradish mash and sage & maple sauce
***
One dessert of your choice
***
Tea & Coffee
*Excluding Smoked Salmon Salad and Crab & Prawn Salad
Platinum Package – €69.00 per person
Arrival Drinks
Fruit Punch or Mulled Wine and Tea, Coffee & Biscuits for all your guests
Wine
½ Bottle House Wine per person served with dinner
Late Bar
Evening Buffet
Cocktail sausages, selection of freshly cut sandwiches with tea & coffee
Accommodation
Bride & Groom in Bridal Suite and Complimentary bedrooms for Parents of Bride & Groom
Wedding Meal
5 Course Wedding Dinner from our a la carte menu selector
One Starter of your choice
***
One Soup of your choice
***
Choice of two main courses from the list below:
Herb Roast Breast of Chicken
Chorizo & white bean cassolette, basil & toasted pine nut cream
Baked Fillet of Salmon
Courgette & tomato compote and sorrel cream
Herb Roast Crown of Turkey and Honey Baked Ham
Herb and onion stuffing roast gravy
Roast Stuffed Loin of Pork
Horseradish mash and sage & maple sauce
Roast Sirloin of Irish Beef
Grilled onion and rosemary mash, roast jus
Seared Fillet of Chunky Cod
Cumin and spinach potatoes saffron and sesame butter sauce
Five Spiced Seared Duck Breast
Roast fennel orange and pink peppercorn glaze
***
One dessert of your choice
***
Tea & Coffee
Diamond Package – €79.00 per person
Arrival Drinks
Sparkling Wine Reception, Canapés Selection & Tea, Coffee & Biscuits for all your guests
Wine
½ Bottle House Wine per person served with dinner
Late Bar
Evening Buffet
Cocktail sausages, chicken goujons, a selection of sandwiches with tea & coffee
Accommodation
Bride & Groom in Bridal Suite and Complimentary bedrooms for Parents
Wedding Meal
Lavish 6 Course Wedding Dinner from our a la carte menu selector
One Starter of your choice
One Soup of your choice
One Sorbet of your choice
***
***
Choice of two main courses from the list below
Herb Roast Breast of Chicken
Chorizo & white bean cassolette, basil & toasted pine nut cream
Baked Fillet of Salmon
Courgette & tomato compote and sorrel cream
Herb Roast Crown of Turkey and Honey Baked Ham
Herb and onion stuffing roast gravy
Roast Stuffed Loin of Pork
Horseradish mash and sage & maple sauce
Roast Sirloin of Irish Beef
Grilled onion and rosemary mash, roast jus
Seared Fillet of Chunky Cod
Cumin and spinach potatoes saffron and sesame butter sauce
Five Spiced Seared Duck Breast
Roast fennel orange and pink peppercorn glaze
Pan Roast Fillet of Irish Beef
Garlic and olive oil mash, green peppercorn cream and rosemary aioli
Steamed Fillet of Asian Sea Bass
Sweet potato purees and red pepper coulis
***
One Dessert of your choice
Tea & Coffee
Contact This Supplier
Areas Served By This Supplier
Crowne Plaza – Blanchardstown serves:
Dublin