Ballinacurra House- "Ireland's Premier Private Estate for Exclusive Hire"
Ballinacurra House- "Ireland's Premier Private Estate for Exclusive Hire", Kinsale, Co. Cork
Phone: 00 353 (0)21 4779040
Mobile: 00 353 (0)87 2867443
Fax: 00 353 (0)21 4779071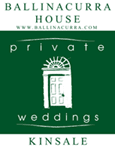 Kinsale – The Ultimate Wedding Destination and
Ballinacurra House – The Perfect Marriage
There are many factors to consider to make your wedding different, unique and great fun -
Venue
Quality
Style
Cost
F&B
Entertainment
Location
Total Exclusivity
The success of your event depends on getting all these elements right for a Wedding Party – which is why the special combination of a Totally Exclusive Use Estate and Kinsale – Ireland's "Ultimate Wedding Destination" and Culinary Capital – is a guaranteed cocktail for success.
Ballinacurra House has been voted Ireland's Premier Private Estate for Exclusive Hire, and host intimate, totally private boutique weddings for up to 130, on a secluded 40 acre estate, just 2 minutes from Kinsale – which is perfectly located for Cork's transport links – international airport, train, ferry and road access.
Please note you get our whole estate on an exclusive use basis only – unlike some other venues that are part exclusive – meaning you will not be sharing your wedding day with unexpected guests.
The biggest challenge for couples in the current economic climate is how to make your wedding unique, special and cost-effective – without compromising quality. This is why small, bespoke weddings are making a comeback – and venues such as Ballinacurra House, Kinsale, provide the perfect solution for downsizing but not downgrading.
Please also note as professional Events Planners in our past careers, you are guaranteed a bespoke approach – at a price that is almost 40% below peak levels – if you add up all the benefits of an Estate Rental versus open house hotels, guesthouses, and country house hotels, or part exclusive venues.
Accommodation Capacities
We have 14 ensuite bedrooms in the Main House, 4 ensuite bedrooms in our Coach House, and 4 ensuite bedrooms in our Stone Cottage – giving us a total of 22 bedrooms (sleeping 44 people in twin occupancy). If you wish to maximise the usage of the house, you can fit 53 adults (and up to 6 children in bunk beds) on the property in a combination of twin, triple and quadruple rooms (see the website for floor plans). If your numbers are over what we can accommodate, then we are happy to recommend many hotels, guesthouses and B&Bs in Kinsale.
The Property
In addition to the extensive buildings, as part of your Exclusive Use you also can enjoy the 40+ acres of the property. We have a magnificent south-facing walled garden which features an outdoor entertainment patio, croquet lawn, children's playground, helipads, picnic lawn, stream and pond, and manicured lawns leading down to a large natural forest, river estuary and a small boat jetty (see photos on our website gallery). The property, both inside and out, will provide you with many options for your wedding photographs.
Civil Ceremonies
Ballinacurra House was a former convent and we can use a number of our rooms to have a Full Civil Ceremony – be it performed by a Priest, government solemniser, Humanist Celebrant or other authorised person. These recent changes in the Marriage Reform Law allows for full Civil Ceremonies to take place outside of the church – subject to a number of conditions being met. We have been organising Civil On-Site Ceremonies since April 2008 and can help you through
the government requirements.
Weddings Numbers
We can offer formal dining for up to 96 + in our Garden Room or 52 in our Ballroom or 130 using both rooms side by side. Additionally we can do barbecues and casual dining for these numbers as well.
Food and Beverages
The House comes with our resident private chef and we can help create a special wedding menu and cater for any dietary requirements of your group. All food and beverage requirements for your stay at Ballinacurra is on request and we agree this in advance
Kinsale – Ireland's Ultimate Wedding Destination as well as the Culinary Capital !
The medieval town of Kinsale is not just about food. It is a desirable internationally-renowned tourist destination with something to suit all ages – traditional bars, beautiful buildings, narrow streets, shops and galleries and lots of activities on land and sea. You'll find Kinsale's not just a place – it's more a state of mind! Considered one of the most beautiful towns in Ireland, Kinsale is a destination wedding venue on your doorstep, and it makes your wedding more than just
about a venue – it is a premium destination with loads to do for all your guests.
See
Link for Beautiful Irish Places ; http://www.youtube.com/watch?v=HKWwFpmhg3U
What to Do
Kinsale is a top class centre for sailing and watersports activity. There are three golf courses including the world-famous Old Head course. Field sports are well-represented with horse riding, clay bird shooting and archery all available close to the town. For those who prefer a more leisurely pace, how about a historical walking tour, a pottery lesson, or a tour by taxi? Or Dining overlooking the harbor – at Fishy Fishy – The Top Rated Seafood Restaurant in the
country.
Historical Kinsale
Kinsale was the site of a battle in 1601 that was a turning point in Irish history. For over 300 years it was a garrison town and port of consequence, leaving a legacy of Georgian and Victorian architecture.
Location…Location…Location
We are:
Less than 5 minutes from the culinary capital & Ireland's "Ultimate Wedding Destination"- Kinsale – with all it has to offer in food, activities and leisure. http://www.Kinsale.ie
20 minutes from the world class Old Head Golf Course (our particular advantages is that we are on the back route so there is no need to go through the town in the busy summer months) http://www.oldheadgolflinks.com
20 minutes from Cork International Airport with direct access to Dublin, London and other UK cities and many cities across Europe. http://www.cork-airport.com
40 minutes from Cork Central Railway Station
Just 3 hours by road from Dublin
30 minutes from the new Cork – Wales ferry crossing
Your Guarantee to Quality
But don't just take our word for it! As further endorsement to the quality of our property, service and food, we were voted the Best Exclusive Hire Property 2007 at the International Luxury Travel Awards in Cannes, beating Richard Branson's Necker Island, previous holder of "Kinsale Business of the Year", or you can also see testimonials from past guests on our website.
Next Step
Most of our information is on our website http://www.ballinacurra.com. You can download a lot of information and brochures as well as view our detailed photo galleries. With 5-star service, dedicated resident chef, stylish and unique venue, ease of access and minutes away from Ireland's Culinary & Wedding Capital – it's the perfect destination wedding venue on your doorstep – for all seasons – and only ever "Exclusively Yours".
Contact This Supplier
Areas Served By This Supplier
Ballinacurra House- "Ireland's Premier Private Estate for Exclusive Hire" serves:
Cork